An Ultimate Pyjama-Set Buying Guide for Cozy Good Night Sleep!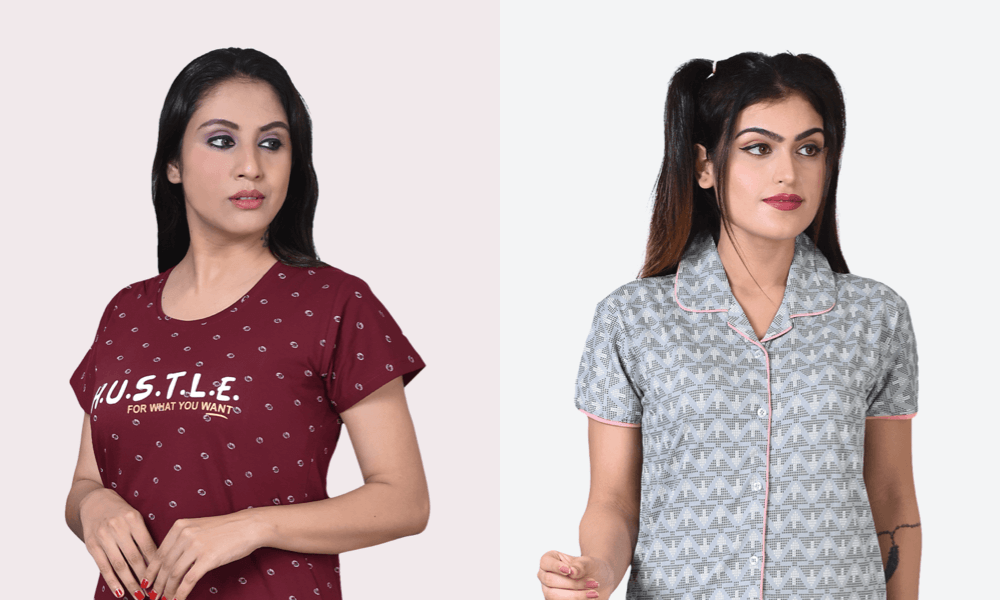 So, you've finally decided to give up on that old-school worn-out T-shirt that you regularly wear to your bed. You're looking for something comfortable and easy to sleep in. But, it has to be stylish enough to go out in your lazy Sunday mornings. So, what's the best nightwear one can get into to feel that sheer comfort?
A top and pyjama set is something that can make you feel at home. 
Pyjamas – An investment, not an afterthought!
The covid -19 pandemic has hit the world by storm in 2020 gave us a sense of time, existence and realization. Kudos, we learned to adapt and so did our wardrobe. High and new fashion habits are in queue at the moment, waiting eagerly to be picked up again by the market. Meanwhile, comfort fashion that focuses our home-driven flexible lifestyle is at the centre-stage and since then, there's no looking back! Indians are choosing comfortable business attire made up of breathable fabric that are loose and comfortable just like Pyjama sets. It has become the new covid-19 office attire followed by pastel and plain t-shirts wrapped up with blazers.
Today, pyjama style pant has become a new normal which can be easily teamed up with stripes tops, solid neutrals and blazers.
But what exactly you should pay attention to while buying Women's pyjama set?
Whenever you're thinking to buy pyjama sets online for your sister or wife, below are few things that needs to
Custom Outfit is the new trend:
Apart from buying regular L-XL sizes cotton pyjama sets, you can even lookout for customized option if you are unable to find your size. Wearing nightdress that doesn't fit your size will not only affect your comfort but also disturb your sleep.


Styling Details:
Before you buy pyjama sets for women, you should be careful about some important details that adds comfort to your sleepwear such as drawstring – Make sure it shouldn't be too much thin.


Brands & Labels:
Checkout the outfit label. It shouldn't be itchy else it will cause you discomfort while you sleep.


Buttons, Lining & Detailing:
Make sure that buttons are stitched properly on sleepwear and shouldn't pop up while you sleep.


Fabric & Materials:
Pay attention to the fabric of the nightwear. It should be too much thin as it will be then spoilt in 2-3 washes.


Comfort: The key Aspect
Since the current pandemic is here to stay for long, once should pick a piece that's appropriate for zoom calls, meetings and comfortable enough to get the best sleep.


Weather & Climate Condition:
Choose fabrics that suits the weather and climate of the country you live in. In summers, wearing velvet would be too warm. Also, satin though looks beautiful may not be the best alternative for hot and scorchy summers.


Size Chart & Options:


Do not forget to pay attention to the size charts while ordering online. Since loose-fitted pyjamas gives you more comfort, it is advisable to select a size up than your actual size. 
Pyjamas as a gift – Is it a good present for her?
Pyjamas, loungewear, nightwear– No matter whatever you call them, the clothes that she wears in her bed is as important as the casual clothes she wears during the day. And what's better to gift than a good -fitted pyjamas/ cotton pyjama set without any waistband, tight ruffled sleeves and scratchy tags that makes her skin comfortable. Gifting her the best pyjama while in bed plays an important role in her night time routine.
But, which pyjama will she like?
Below is how you can discover which pyjama set is best for her:
Go for colour that matches her personality:
You can select a classic white or black or can go with a simple solid-toned hue. If simplicity and elegance is something that she adores, checkout cotton pyjama sets or subtle prints. If she's someone of a vibrant personality, you can go with natural themes or colourful rainbow prints.


Select a cut:
If she loves to go with the trend, you can go for fancy capri-sets or pyjama sets that have loose cuffs, buttoned cuffs, drapey cuts or lapel collar.


Pick the right material:
There are multiple options to choose for. You need to pick the right material as per season and climate condition. Cotton, cotton silk, silk blend, satin is few of them to give off a lighter feel to wearer. 
So, still got questions?
We're here to answer it all. Just shoot us your queries and our team will get back to you sooner to help you out with your queries.